Fly along with CARVE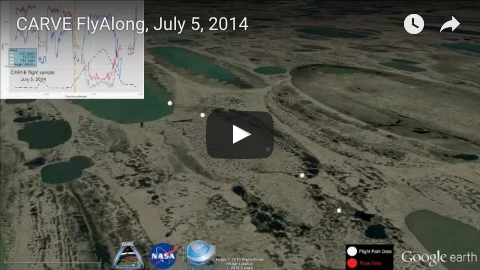 Get Data
Featured Airborne Data
CARVE Merged Airborne CO2 and Methane data
---

The Carbon in Arctic Reservoirs Vulnerability Experiment (CARVE) is an Earth Venture Sub-orbital mission funded in 2010 as part of NASA's Earth System Science Pathfinder Mission. From 2011 - 2015, the CARVE mission collected detailed measurements of greenhouse gases in the Alaskan Arctic and developed models to quantify Arctic carbon fluxes and carbon cycle-climate processes. CARVE provides an integrated set of greenhouse gas data that provides experimental insights into Arctic carbon cycling.
CARVE used a C-23 Sherpa aircraft to fly an airborne remote-sensing payload that measured atmospheric carbon dioxide, methane, and carbon monoxide and relevant land surface parameters. Continuous ground-based measurements provide temporal and regional context as well as calibration for CARVE airborne measurements.
CARVE is funded as part of the Earth System Science Pathfinder Program.
Resources
Related projects
---